Get into action with your Start-Up Business!
1. A snapshot introduction to Entrepreneurship & Business management for start-ups
You've probably been thinking about starting your own business for a while. There's never been a better time to consider being in control of your own time, having multiple income possibilities and business prospects to consider than now.
In your heart (and head!), you've always wanted to be, and believe that you have what it takes to be an entrepreneur, or a full-time or part-time business owner.
Let's quickly look at the definition of an entrepreneur:
An entrepreneur is someone who has the ability and desire to establish, administer, manage, and succeed in a startup venture. Along with this, the willingness to handle the risk and challenges that comes with it. The purpose: to grow, create value and make profits. In a nutshell: Entrepreneurs take chances and get better at whatever they attempt, to grow value. 
Entrepreneurs have many choices, and they can choose to have a part-time business, or a full-time business, or even multiple businesses (or in some cases, various investment/income streams). These can also be considered in many ways, for example: project based, or continuous (snowball) ways of earning income.
Whatever the model you think works best for you personally: Even if you are starting part-time, have a full-time mindset – applied and structured in a way that suits your goals (this includes your heart and your gut!), your time and your lifestyle.
As with all things in life: Preparation is essential. Repeat that to yourself. Preperation is essential! The stats on start-ups that fail are there for a reason, you could be one of the successful statistics. 
So… Plan as best as you can… Sharpen your axe.
But always remember the purpose of having an axe: you still need to chop the wood!
Think, Plan and Build your dream into action. You've got this.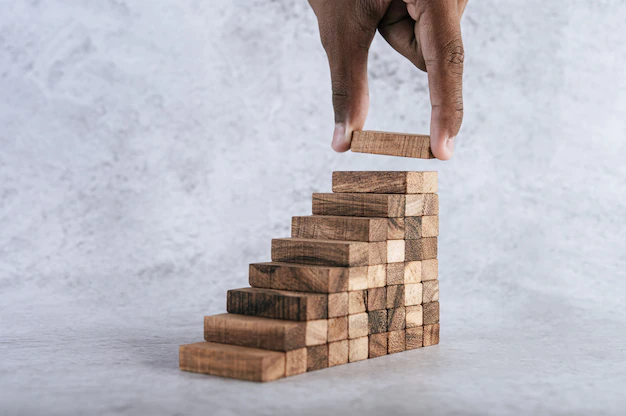 2. Preparation: Important Questions to ask yourself before you start your New Business
We are all unique. We are individuals with unique skills and strengths. The same is true with business. What makes your prospective business unique, or different, or show off its value and stand out from the crowd?
Authenticity is a business buzzword, making it easy to underestimate the importance of this word in business context. But it's often the key concept to ensure a business makes it off the ground, survives, or where you want to go, prosper and thrives! 
You might have your business clear in your mind, already know exactly what you want to do, and how you want to do it. Perhaps you've considered it for years. Or maybe not yet. Maybe you have considered a few options or opportunities and still need to decide which one is best. Maybe you still need some guidance or reassurance, or just to soundboard some ideas? All of this is normal…
A few useful and simple questions that may help ensure you have the best chance of making the right choices and give yourself the best chance to start successfully:
1. Have you considered and compared different Industries/products or services that are popular and frequently easy for start-ups?
Creative Products (Manufacturing)
Is there something you can create or manufacture that is different, beautiful or unique? Even If it isn't completely unique – do you think it is something you can create or deliver in a different way, combine in an exciting manner, orthat there might be a market for what you have to create?
Practical Examples: Crafts, Arts, unique ways of packaging an existing product. Combinations of products that you can package. 
(E-mail annelize@achievethroughaction.com at Achieve for more examples).
Lifestyle (Wellness & Nutrition).
Lifestyle trends are versatile, and it is easy to extend a range, or partner with products. This could include things like healthy lifestyle programs, exercise equipment or nutritional products that promotes health and wellness trends. Improved quality of life is an endless market.
(E-mail annelize@achievethroughaction.com at Achieve for more examples).
Digital Marketing and Sales (Technical or support )
Digital skills are still growing in demand. Make a list of your skills, look at what and where you could potentially market them, or list and review if you think you have any skills (or a specific combination of skills!) that could form a unique product/service offering. Do some homework on pricing if you need to.
(E-Mail annelize@achievethroughaction.com at Achieve for more examples).
Services Business (Personal or Commercial services)
There are many different services that can be successfully sold, in-person or online. This could be any service that saves time, money or add value to a customer or business's life. Are you familiar with different services that are in high demand? (Demand and Supply economic principles still apply to your own business!), so make sure you do a bit of homework on supply and demand factors that might influence your offer.
(Bonus tip: You should alwasy consider factors such as longevity and scalability, as well as practical considerations such as e.g. ease of doing business with you, growth opportunities and trends before you get started.)
(E-mail annelize@achievethroughaction.com at Achieve for more examples)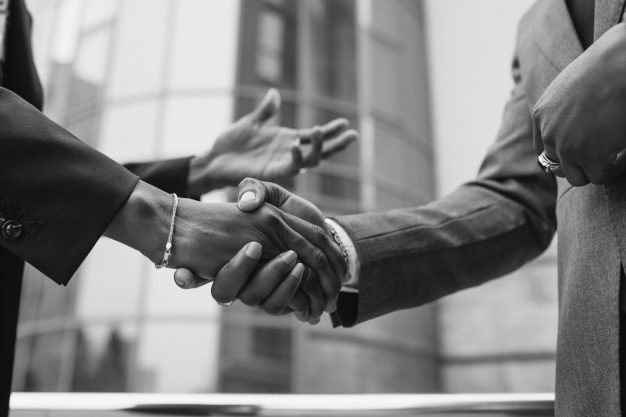 3. Things you need to start? (And things you don't need immediately!)
There are a lot of advice and business tools readily available for starting a new business. There are definitely a few things that could help you greatly, saving you time and costs, and ensure that you hit the magic "growth" stage for your business as soon as possible.  
Try to ensure that you get the essential things ready first. But: Don't reinvent the wheel where not necessary and make sure you use the many useful tips, tools and resources that are freely available, but prioritise the ones you need.
This include (But not limited to): Free Apps, Sponsored support services, mentor services and many other marketing & management tools available.
NB: An underrated skill for entrepreneurs: to learn to ignore advice and services that you don't need, or that may end up wasting your resources.
Action Point: Draw up your own critical pathway list. 
Put absolute vital things on the list first to ensure you focus and prioritize what is most important.
This include important factors like:
Business registration and legislative requirements (especially where it may be essential, or benficial to the industry you are looking to do business in).
Business accreditation (Where compulsory or where it may be beneficial)
Admin and accounting systems (Financial planning systems – in the beginning it may be worth it to keep this as simple as possible)
Marketing plan (Or outsource partners where it may be more effective to use your time in an alternative way)
Bank accounts, payment models and terms, and hardware required for business value creation
In order to start your business well and immediately put your start-up or business on a winning path: perhaps consider the following and how they may help you to grow and scale your new business. Think strategic and think like a Boss, because in your business, you are the Boss!
Practical Tip: Read more about Strategy Fundamentals, it will help you stay on course in the direction you want to take your business!

3.1 Competitive Advantage (Get to know and understand what this means very well!)
Competitive advantage ensures you (Or your team) play your best "winning game"… What can you do better, faster, more cost effective or even just "superior in perception" in a competitive business marketplace? How can you build different layers of winning on that, especially if this is a longterm game for you? And have you considered how to continue to create winning momentum (in spite of what your competitors may do)?
Start by thinking about what you've already got that may be winning for you. Keep it as clear and simple as possible in your own mind, that will help you to showcase the best of your business.
Competitive advantage helps you to be distinguished, recognisable and reachable, and in doing so outclass competitors to win customers heart's (and wallets).
3.2 Networks
Don't underestimate the networks you already have! You might be more resourceful than you think. This is a good start, and perhaps you have overlooked how useful this could be. Also: don't rely purely on the networks you have! Develop a targeted and continuous approach to create a snowball effect for business growth. Systems are relatively easy to build – but get as focussed as possible on the things that matter, from the start. Think about things like your target market, how exactly you plan on reaching them, and what is realistically possible to achieve in practical execution, with the resources you have?
3.3 An attitude of learning!
A big benefit of the current time that we live in: Knowledge and information is readily and affordably available. There are most likely answers to all your questions, which means you can elimate 'guess-work' and some risk. But as the old saying goes "Education Is not free, you have to pay attention".
Decide what knowledge and information is most useful and purposeful for your chosen industry and business.
For example: Sign up to useful newsletters, have the right conversations – or if needed, find a "North Star" or  "compass-supporter".
(Somebody that you trust that can help you see things differently or from another perspective if needed, or if you get lost, help show you the way forward).
But: don't waste your time on only learning! Don't underestimate the Importance of learning on the job, and making mistakes or even failing while you learn. Entrepreneurs are known to be robust and learn as they 'do'. The Important thing Is that you have the willingness to learn and that whatever happens, always remain open to learn. It comes as part of being a Boss!
4. The Essential principles of running your own business
The best strategy is a happy customer. How will you Achieve this goal? How will you amplify this? Do you know what will result in a happy customer In your type of business? Are you perhaps missing seemingly 'insignificant' elements?
What do customers really want? It may not be what you assume they want. (And do you know how to get to make sure they get what they want?)
4.1 Customers
Customer Definition: " Someone willing to exchange value to support you".
Owning your own business today means you will need a basic understanding of customers. The follow will be useful in all industries:
Leads (People Interested In your product or service)

Customers (People that exchanged value or paid for your idea, product, or service. FYI: You love them! Read more about Brandlove).

Repeat Customers (People or companies that will use your products or services more than once, or for a long period of time). PS: You love them!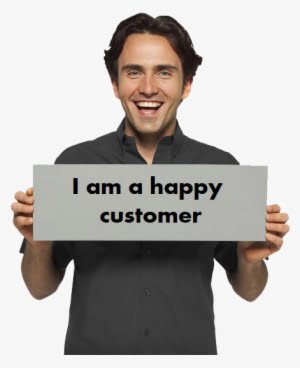 4.2 Income Planning (Let's talk money. The practical things about managing your finances.)
Your own business means you need to manage your own finances. This is critically important, and could be very simple and easy, especially with all the tools available today. A few key points for consideration that could help you manage the financial side of business:
Price (This is a very important consideration, and you need to consider things like once-off costs, running costs, competitor benchmarks and the customer's willingness to pay for unique or exceptional service.
(Correct pricing is one of the make-or-break considerations for any business!!!)
Promotions (How you showcase and promote your business, product or services to the right audience is also critically important. Look at creative and practical examples, and audience testing is a very useful exercise).
Payment systems (There are various payment system options available. Depending on your market, price point and location, you should remember how important customers are and start as flexible as possible. Customers may have different preferences, and payment systems and terms/conditions – could be a competitive advantage!)
4.3 Troubleshoot/Fix & Move – The importance of reporting.
In any business there are things that go wrong. All the time. The important thing is to try and predict what could go wrong if possible, fix, improve and move on.
A few Tips around measurement that can help you do this:
Measure what you treasure! Measure and take note of he Important things.
Plan for the unforeseen: This may sound difficult or impossible, but it need not be the case. You can learn to be aware (and even dodge!) risks.
But: Be honest with yourself around risks: Think about risk 'benchmarks' for example – what is acceptable and even normal in a start-up business. If and where possible, plan in advance on how you will address a crisis before it happens.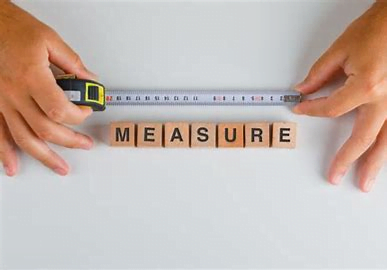 Action Point: Even though you may be the Boss and run your own business, imagine yourself as the Investor of your business. What Information and reports will be the most Important and useful for yourself to make the correct decisions? Manage this information like an investor would want to manage it, because – when you own the business and you Boss-Up – you are the investor!
5. Secrets of Success. (The WOW-Factor!)
If you look around, every successful business has a WOW-Factor. If you know yours, you could use it to your advantage. The WOW- factor is often an internal thing, sometimes it is something small and simple, or sometimes it is a huge thing that creates strategic surprise! It doesn't always matter how small or how big it is, what matters is how you use it to your advantage.
You can use it for example for purposeful strategic surprise, for brand storytelling, for emotional engagement or for driving value perceptions.
What is your start-up business known for. What is your WOW-factor?
Test your WOW-factor with a few customers, including a few people who know you but also people with experience in business or your industry. Don't be discouraged with different opinions and feedback though, use what you learn – and remember a WOW-factor also depends on things like: Timing, someone's frame of reference and experiences.
Simple Significant Statistics: Customer satisfaction could be a WOW-factor!
It is well-known in research that as little as a 5% customer satisfaction increase could lead to as much as 85% profit growth for business!
6. Educate – Execute – Accelerate!
The most successful entrepreneurs are usually curious and passionate about what they do.
They continue to learn and explore more about their industry, people, the economy and business trends in general, and think like a boss about opportunities in business.
They tend to use and apply what they learn (knowledge!) – but also execute very successfully. As an entrepreneur, do what you can when you can. Discipline are as important as inspiration, and as an entrepreneur means doing what needs to be done.
Successful startup business owners are usually fast to react when needed to external circumstances. They are as much 'doers' as they are 'thinkers'.
Excitement and Enthusiasm will take you a long way as an entrepreneur. 
A last few Practical Tips & Considerations on your Boss Up journey:
Make sure you use the correct Social Media Platforms for your marketing. Remember the 20/80 principle (You don't need everything all the time!) Don't waste resources.
* Get tuned in with automation tools (Time Is money!) – and now It will be your own. Use automation where possible and relevant, and it will help you save time and scale your business.
Rethink Marketing. Marketing strategy for a start-up is as much internal as it is external. Use your unique ability, strength, architecture and resources. Ensure that you work effective towards your goals.
Plan your own time and the time of outsourcing functions carefully Planning and execution are equally important. Prioritizing what to do and when to do it is vital. Make sure that you don't get distracted by things out of your control, and when you fall or fail in execution, embrace it and just keep going.
You are a winner. Irrespective of your entrepreneurship journey, the fact that you are exploring this journey, already distinguishes you from the crowd. We all know that many succesful entrepreneurs had to try many times to be successful, your journey is your journey.
Getting In the entrepreneurship ring already makes you a champion!
And if you need help, call us.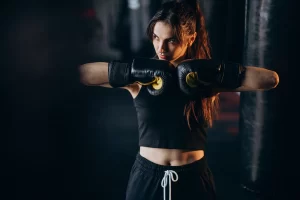 Go and change the world, impact the world – and own your own destiny through owning your own business!
Boss up! Enjoy the journeyof being an entrepreneur. 
If you would like to talk to us about further steps and how we could partner on this journey: Mail us on training@achievethroughaction.com
References and Bonus Free Support Tools list: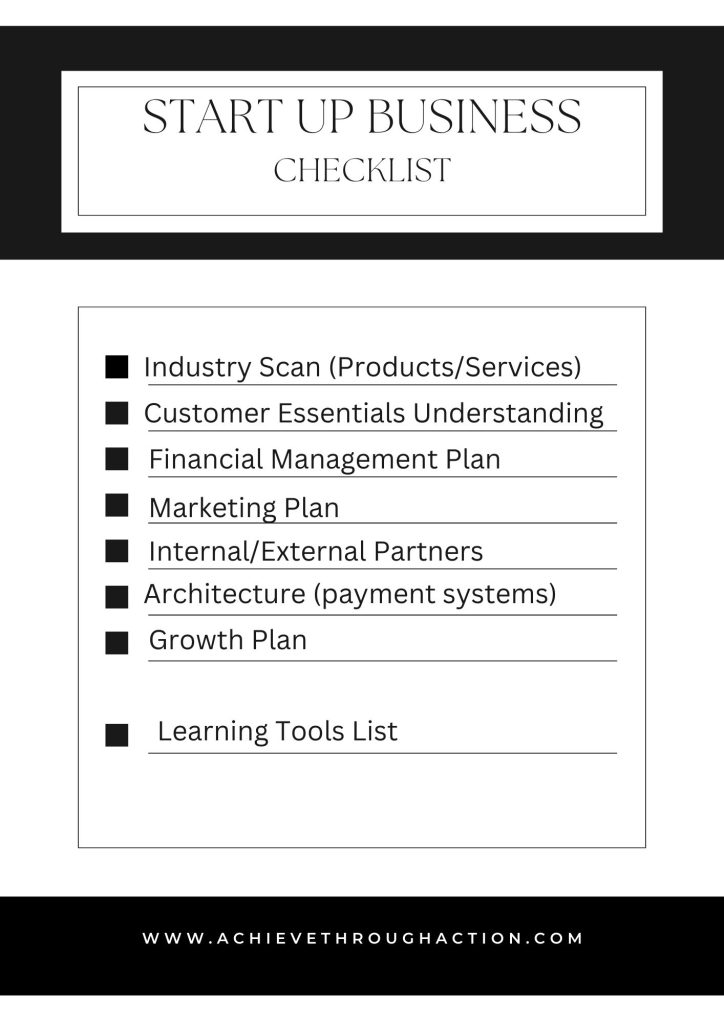 This simple checklist will differ from industry to industry and depend on your vision for your business. It could also be a useful tool to ensure you start putting together a "Business plan" for funding or partnership opportunities! And if you get stuck, it is easy to get help in this connected world.
www.canva.com
www.linkedin.com
www.marketingprofs.com
www.researchgate.com
www.xero.com
For more Information: Contact annelize@achievethtroughaction.com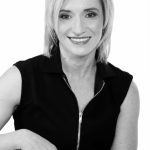 This micro-course was designed by Annelize Morkel Master of Commerce (Business management). Annelize is a strategy and digital transformation consultant with 20+ years experience in business. She is a serial entrepreneur that has owned many successful businesses from finance, experience economy driven start-ups, beverage and digital industries. She is an Internationally published lecturer and researcher, with a personal mission to support education and knowledge transfer to inspire people and business to Achieve their goals.
www.achievethroughaction.com